Get some fresh air with Eludice!

The weather is getting milder, summer is approaching, it's time to discover our offers of fun courses and exploration games!
Whether it's for a team building or a company project, whether it's to discover your city, a specific place or unknown landscapes, our outdoor escape games are made for you.
Designed and made to measure, these exploration games will allow you to escape for the duration of an investigation!
Do you want a personalised scenario? We will create it for you and you will receive your mission orders via our HQ from our Supervising Agents!
What are exploration games?
These are scripted exploration games guided by a mobile application or via media such as treasure maps.
This type of game is both a fun journey and a giant escape game, and allows players to discover a territory, a geographical area or a building.
Armed with a tablet or a smartphone, players can then wander around independently to solve various enigmas.
How does it work?
When players press the button, a map is displayed. The map will change as the players progress through the course.
It shows a first destination point (called a "point of interest") and will only show the next ones once the puzzle has been solved. A character will speak throughout the adventure in a dialogue line provided for this purpose. When the protagonist's speech is long, his message can scroll.When arriving at the first destination point, players will find a first QR Code, they will have to click on the QR Code image in the interface in order to scan it.
Scanning it unlocks the first riddle. Players can then collect the first item in their quest. The screen will turn green and the quest item will appear. Each time an item is collected, the game is marked by the recovery of a piece of the item. This item serves as a progress gauge to accompany players on their journey.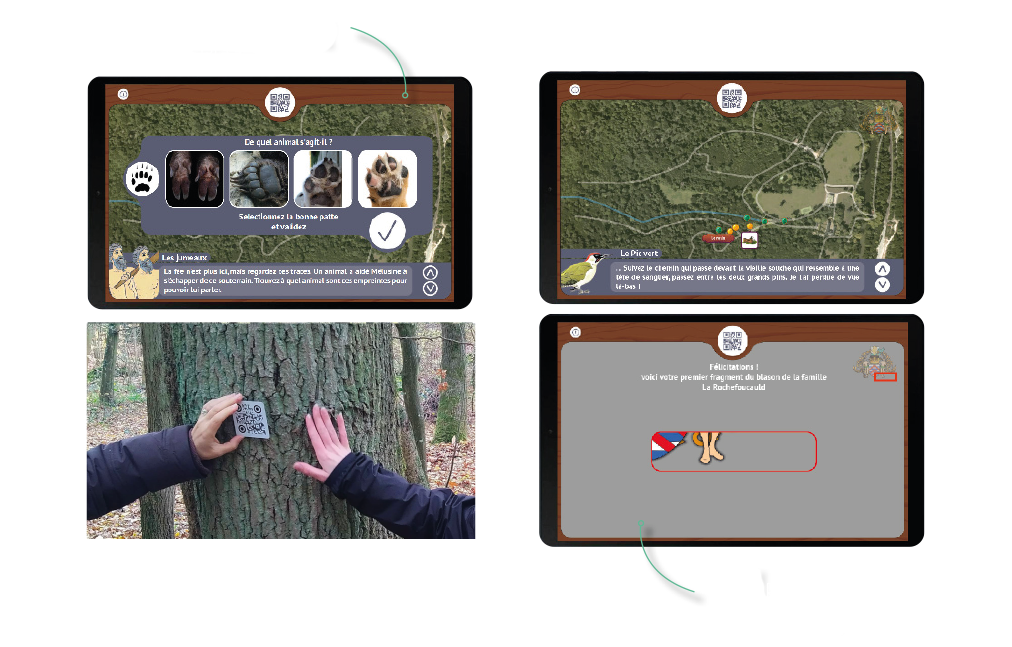 YOU are a large group? No problem, we welcome you together and let you play in several teams simultaneously!
Of course Eludice is at your disposal for any further information. A personalised quote will be offered to you.
Don't hesitate any longer and go on an adventure with Eludice!