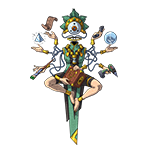 Thanks to our know-how, you can add new mechanisms to your Escape Game room that fit in perfectly with the story and the setting.

Our autonomous mechanisms are imagined and designed to appeal to the reflexion, observation and manipulation of your players. Each mechanism we create is thought out, designed, developed and manufactured in our workshop by our technical and creative team.
In collaboration with you, we create mechanisms that meet your requirements and will amaze your players. We design a mechanism from your idea. We adapt one of our creations for you or we invent a new mechanism together.
Our technical and creative skills allow us to develop autonomous mechanisms (electronic or not) that fit your theme.
We can also take action on capricious or obsolete mechanisms and bring you adapted and optimized solutions.